Evolving gaming e-commerce at a global scale.
During a two year contract with Instrument, I had the pleasure of primarily working with Epic Games. With a cross-functional approach, I became deeply embedded within Epic's product and engineering teams.
Our work, building upon strong foundations by Work&Co, encompassed all aspects of product design and strategy. As a versatile product designer, my tasks ranged from creating features from scratch to thorough production design, documentation, VQA, UI animation, and design systems refinement.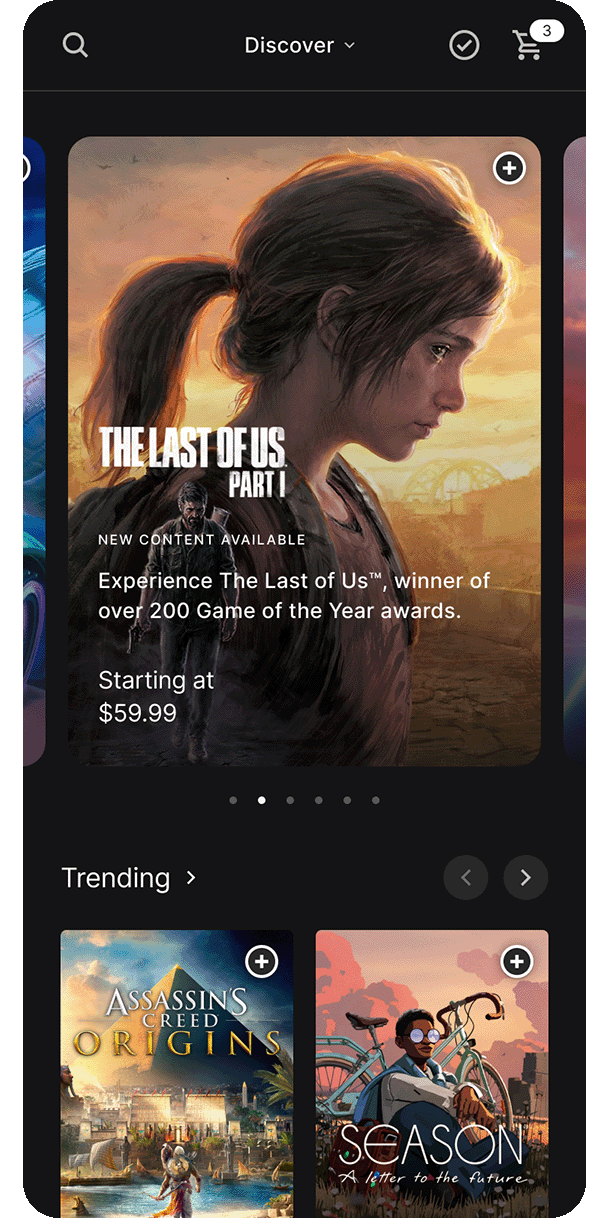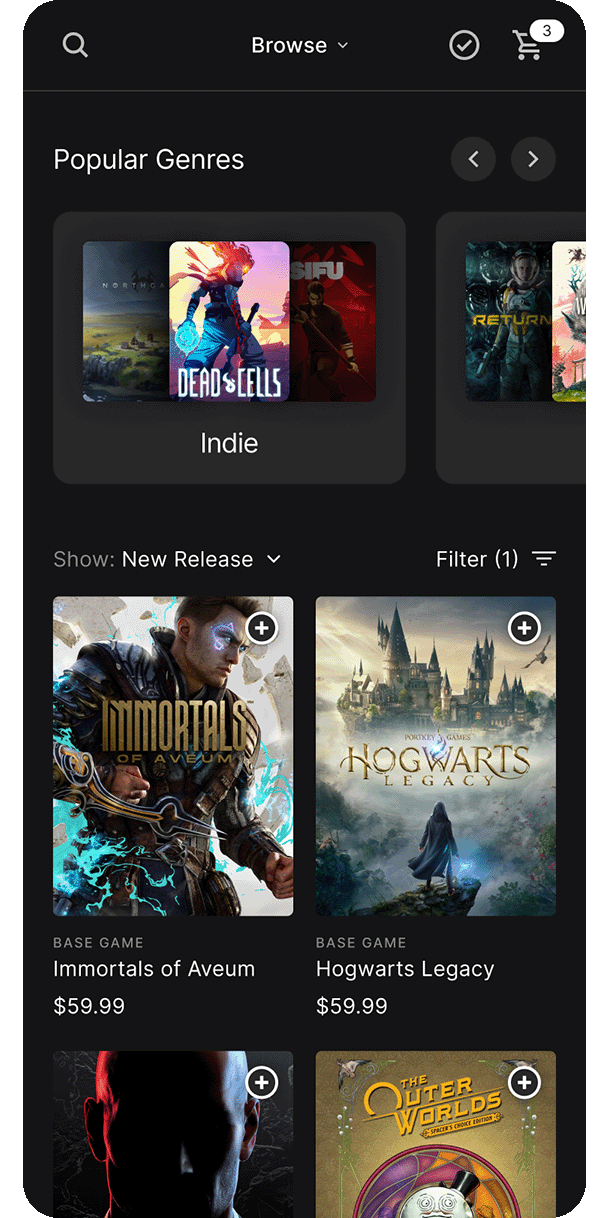 Our main focus within the Epic Games Store was enhancing the discoverability and acquisition of games and software. We began by reworking the "Discover" and "Browse" sections of the store to promote games and streamline usability.
Building on an initial redesign by design director Tyler Moody, creative director Brian Baker and executive producer Meredith Robinson, we revamped the UI of the storefront's hero carousel component to better showcase games and promotions. This included leveraging more prominent imagery, optimizing the mobile experience and polishing the overall look and feel of the component. Additionally, our efforts contributed to streamlining and automating the authoring process, supported by comprehensive guidelines for authors.
My responsibilities on the carousel were primarily production design, documentation, VQA and the design of the mobile component.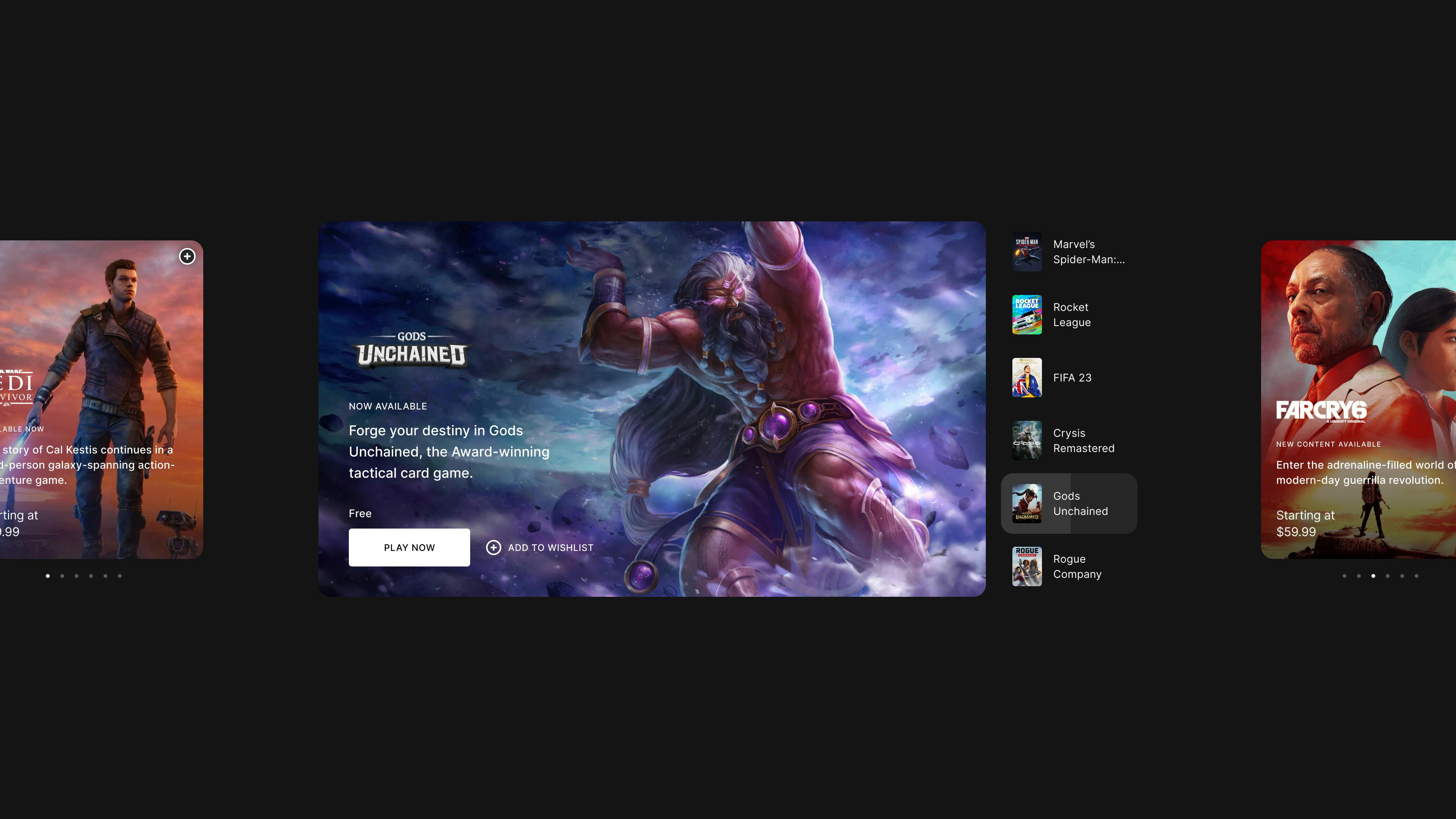 We also conceptualized, designed and delivered a visual filter system called "Game Stacks" to improve the browsing experience. This effort involved designing a flexible component to display collections of games grouped by specific genres or tags.
In addition to Browse and Discovery experiences, Tyler, strategy director Sarasota Proffitt and I overhauled the Product Detail Pages with a sub-navigation system, refined media carousel, and edition comparison component.
These PDP initiatives were especially complex and nuanced as they needed to scale beyond games, accommodating creator tools and assets, game mods and DLC add-ons.
Another area of focus for Design Director Jamie Martinez and I was on creating and refining various acquisition experiences. One notable feature-set was the integration of coupons into the store, named "Promotions." This initiative was uniquely cross-functional, involving several Epic teams, from marketing to payment processing.
Before beginning the design process, senior strategist Jon Pauly conducted extensive research and strategic planning. Working closely with senior producer Shelly Garteiz, we designed and delivered a net-new couponing experience that catered to the store's global audience and aligned with Epic's future goals.
To refine this complex feature, we spent months honing the UI and UX, prototyping and conducting feasibility workshops with the engineering teams to ensure successful implementation and delivery.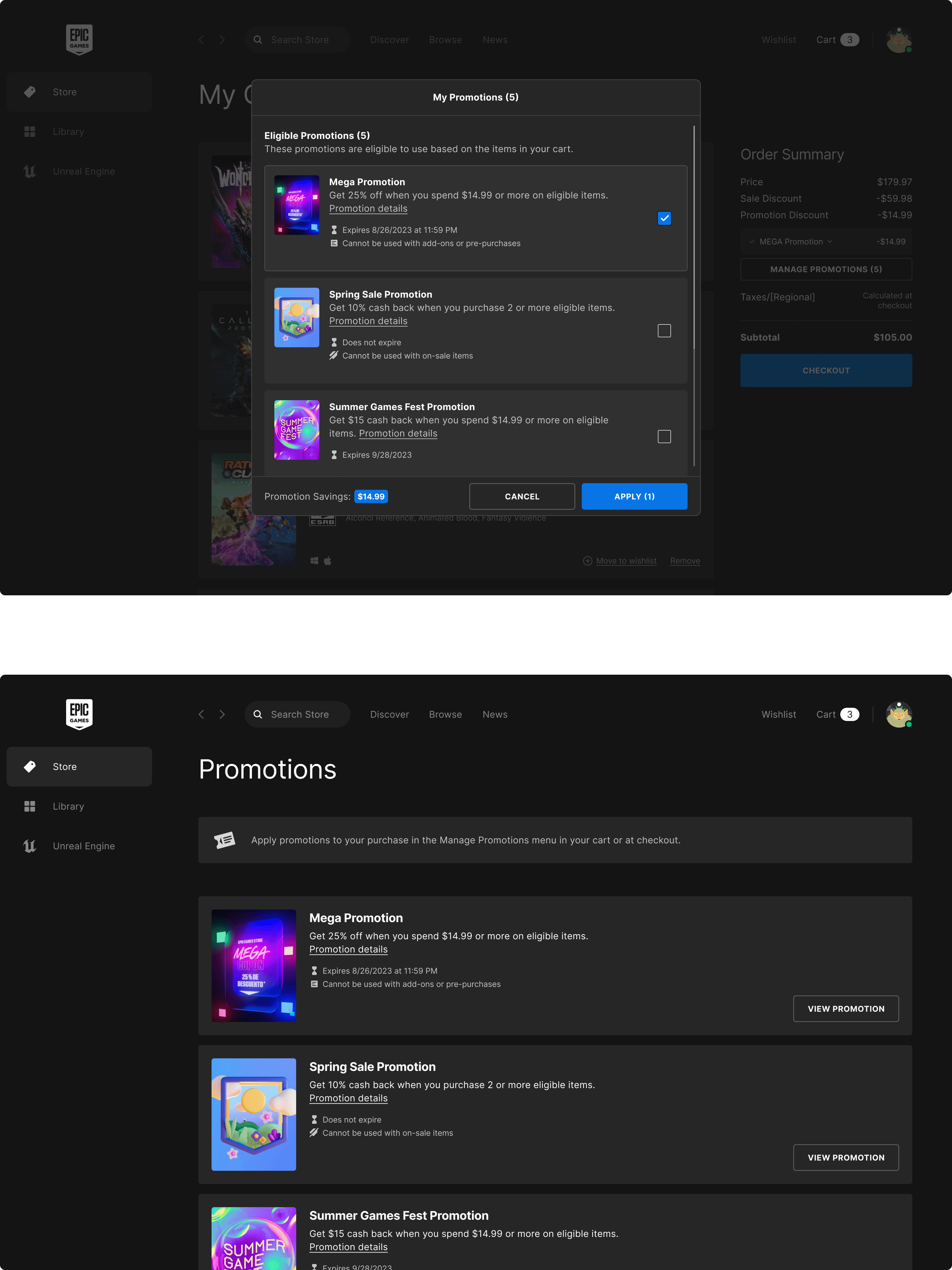 Along with our product design work, Jamie and I pioneered innovative design delivery methods. While different from the tangible feature work, these efforts involved crafting presentations and proposals about process and systems. We thoroughly vetted and tested these approaches while designing and delivering components and features.
After numerous iterations and adjustments, we established a feature delivery process that aligned well with the engineering approach. We developed an interactive, templated, and scalable documentation format within Figma. This format effectively met the needs of both designers and engineers, enhancing collaboration and streamlining the design-to-development workflow.
We were also tasked with creating systems for holistically refining the store's UI, including styling and layout systems, to align with a future vision of the experience.
Jamie Martinez, Vanessa DeSpain, and I collaborated on a corner radius system to "soften" the UI. We aimed to create a consistent, global approach that eliminated arbitrary design decisions for each component. The result was a token-based radius system with comprehensive guidelines. These guidelines considered the function, utility, size, and content density of each component to determine the appropriate radius token.
My experience with Instrument and Epic proved to be a master class in digital product and systems design at a massive scale. This opportunity has greatly influenced my understanding and appreciation of e-commerce design and fueled my passion for digital design systems.